Manifestation Mastery: 12 Steps To Actual Manifestation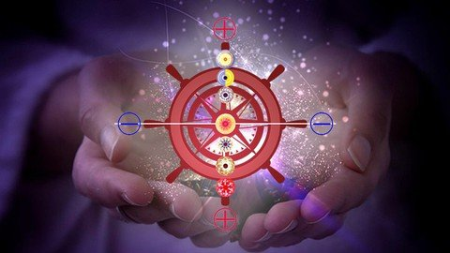 Published 6/2022MP4 | Video: h264, 1280x720 | Audio: AAC, 44.1 KHzLanguage: English | Size: 2.57 GB | Duration: 2h 5m
The manifestation process according to the approach Infinite Ammiratus
What you'll learn
You learn about the three personal aspects – Spirit, soul, and body
Identify your true self that is connected to all true aspects
You learn how to connect to love, inspiration, intuition, creativity, and happiness
Clarify misunderstandings and misleadings about personal aspects
You learn how to reach authenticity and a balanced life
Connect to your purpose and manifest what you love
You learn how to energize yourself with love
You learn about positivity and negativity, good and bad
You learn about finite and infinite aspects of yourself
Tune into balanced happiness and be inspired by wisdom and love
Prepare to manifest what you love
Requirements
Being open and loving to learn about yourself
Have the desire to face all your own aspects to find happiness
Have the drive to manifest what you love
Description
Being creative and intuitively open happens not just like that.
You need to find an environment that is supportive of these aspects and have a clear mind and a relaxed body for it is helpful. Finally, you can connect to this source of creativity in only one area of yourself. That is your infinite part, that is your heart or soul, your true self or center. This center you find literally in the center of yourself, in a disc shape area around your physical heart.How to know more about this hidden area How to discover your soul, your true self How to tune into intuition and inspirationThere is a process to sharpen all your senses and so to say unify them within the present moment. Only with this process, you can tap into your infinite reservoir of love, life, and creativity. Meditating is to find this very center and to stay there. A technique of high-speed meditation will support you even with important meeting events like romantic dates, job interviews, and sales pitches. You can grasp already that connecting and tapping into your infinite part can be used even for all daily life events. The crown of it all is to manifest your goals into your life out of love.Knowing and understanding oneself is one of the most fascinating tasks in the life of a modern person. There are things we need to be aware of, and it would be dramatic if a person could not manage these aspects. Happiness and well-being depend on these smooth processes within ourselves. Three areas within each of us challenge us to do the impossible: to bring conflicting forces into harmony. The mind (our ego, personality, and identity), which like our physical body is in a finite realm, is usually very dominant in life and very "self-conscious." Our heart (soul, center, and true self) is usually hidden, reserved, and rather "polite" and is the only part that is in an infinite realm. And our physical body is usually loyal and rather very "peace-loving". The task is to create harmonization.Finally, we are beings who do not live separately from others because we are very socially oriented. And here we can also recognize and understand ourselves in, through, and by others. The mirror principle even suggests a radical view: victim and predator are more related than you can ever imagine.Technically it is decisive to know what love is not before finding out the true meaning of love. Many aspects are related to this task and once we are aware of true love it will not only change our view of life but it will influence us regarding our goals the like. Finally, our goals and all our manifestations should be born out of love. Forget basically about judging if something is good or bad, worthy or unworthy, and just concentrate on the aspects of the true self, true love, infinity, and detachment. Then, focus on the aspects to manifest in your life, those aspects you are attached to and that will come into the new reality of and space. You see that from a realm beyond and space your goal is born out of love. Without love, it is not possible to find your true self and manifest your goals therefore love is in a crucial position. The pure energy of love is what was there before our and it will be the only aspect that will be left when we are gone. We have the extraordinary privilege to live and create out of love.Come with us on the exciting journey of understanding yourself to master all manifestations in your life!
Overview
Section 1: 1st Section
Lecture 1 Manifest what you love!
Lecture 2 What is it all about "success"
Lecture 3 How to high-speed meditate
Section 2: 2nd Section
Lecture 4 Understanding Yourself – Introduction
Lecture 5 Understanding Yourself – The Spirit
Lecture 6 Understanding Yourself – The Heart
Lecture 7 Understanding Yourself - The Others
Lecture 8 Understanding Yourself – Attachment & Detachment
Section 3: 3rd Section
Lecture 9 The Manifestation Process – Introduction
Lecture 10 The Manifestation Process – External Conditions
Lecture 11 The Manifestation Process – The Preparation
Lecture 12 The Manifestation Process - The Core Lecture
Section 4: Quiz Section
Connect to your true purpose within a week!,Join our affordable, neat, and encouraging course to gain the skills to manifest all your goals out of love and to live a happy and fulfilled life!,Your fulfilled life is manifested out of love!,With only a little financial and effort, you can achieve all your goals and lead a happy and fulfilled life!,The new reality of a manifestation happens in the unified presence of all senses only out of love!,Join the journey to master manifestations!
HomePage:
Https://anonymz.com/https://www.udemy.com/course/manifestation-mastery-12-steps-to-actual-manifestation/
DOWNLOAD1dl.netuploadgig.comrapidgator.net