KISS - Kissteria (180 Gram 34LP Road Case Box Set, 2014)[Hi-Res] Part 2: LP6-LP10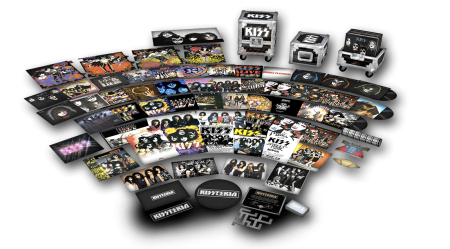 2014 | Hard rock, heavy metal, shock rock, glam metal
FLAC, Lossless 24-96 | 5.34 Gb + Artwork 2.69 Gb
KISS only delivers the best and for their 40th anniversary Mercury Records and UMe proudly present the greatest vinyl boxset in all the land, KISSTERIA - The Ultimate Vinyl Road Case!
Thirty-four LPs, featuring nineteen studio albums, five Alive releases and their four solo albums pressed onto audiophile 180g vinyl for the first since as far back as 1985 for some titles. Also included are six exclusive vinyl albums (pictured left) not available via any other offering. With all audio newly remastered in ultra-high definition DSD (Direct Stream Digital), KISSTERIA - The Ultimate Vinyl Road Case offers a maximum fidelity treatment for each iconic album.
Additional bonus items include twelve 11"x17" archival posters including the band's very first promo poster, KISS vinyl cleaning cloth, KISS turntable mat, KISS dominoes set, four band lithos highlighting four decades of the band and a certificate of authenticity proudly displaying the limited edition number of each box set. Weighing nearly 50 pounds when fully assembled, 1,000 fans worldwide will be lucky enough to own this legendary vinyl box set and prove to the millions of KISS followers all over the world who amongst them are the MEGA FANS.
06 - Rock And Roll Over
01. I Want You [03:04]
02. Take Me [02:55]
03. Calling Dr. Love [03:44]
04. Ladies Room [03:27]
05. Baby Driver [03:37]
06. Love 'Em And Leave 'Em [03:45]
07. Mr. Speed [03:21]
08. See You In Your Dreams [02:34]
09. Hard Luck Woman [03:33]
10. Makin' Love [03:06]
07 - Love Gun (32:36)
01. I Stole Your Love [03:05]
02. Christine Sixteen [03:13]
03. Got Love For Sale [03:28]
04. Shock Me [03:47]
05. Tomorrow And Tonight [03:35]
06. Love Gun [03:18]
07. Hooligan [03:01]
08. Almost Human [02:49]
09. Plaster Caster [03:28]
10. Then She Kissed Me [02:57]
08 - Alive II (1:11:21)
01. Detroit Rock City [03:56]
02. King Of The Night World [03:08]
03. Ladies Room [03:12]
04. Makin' Love [03:13]
05. Love Gun [03:41]
06. Calling Dr. Love [03:35]
07. Christine Sixteen [02:45]
08. Shock Me [05:52]
09. Hard Luck Woman [03:07]
10. Tomorrow And Tonight [03:19]
11. I Stole Your Love [03:34]
12. Beth [02:25]
13. God Of Thunder [05:15]
14. I Want You [04:15]
15. Shout It Out Loud [03:37]
16. All American Man [03:14]
17. Rockin' In The USA [02:38]
18. Larger Than Life [04:02]
19. Rocket Ride [04:08]
20. Any Way You Want It [02:32]
09 - Double Platinum (1:09:13)
01. Strutter '78 [03:43]
02. Do You Love Me? [03:34]
03. Hard Luck Woman [03:24]
04. Calling Dr. Love [03:19]
05. Let Me Go, Rock 'N Roll [02:15]
06. Love Gun [03:16]
07. God Of Thunder [04:15]
08. Firehouse [03:19]
09. Hotter Than Hell [03:32]
10. I Want You [02:59]
11. Deuce [03:03]
12. 100,000 Years [03:23]
13. Detroit Rock City [03:36]
14. Rock Bottom (Intro) / She [05:27]
15. Rock And Roll All Nite [02:41]
16. Beth [02:46]
17. Makin' Love [03:14]
18. C'mon And Love Me [02:57]
19. Cold Gin [04:22]
20. Black Diamond [04:15]
10 - Ace Frehley (36:22)
01. Rip It Out [03:40]
02. Speedin' Back To My Baby [03:37]
03. Snow Blind [03:56]
04. Ozone [04:41]
05. What's On Your Mind? [03:25]
06. New York Groove [03:03]
07. I'm In Need Of Love [04:34]
08. Wiped-Out [04:09]
09. Fractured Mirror [05:21]
DOWNLOADuploadgigrapidgatornitroflare