UVI - Emulation II Plus v1.0.1 (UVI Falcon)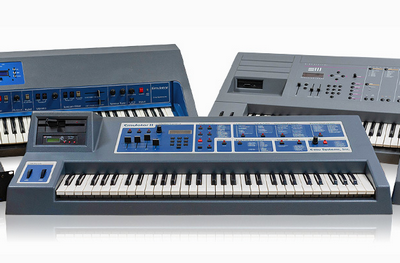 UVI - Emulation II Plus v1.0.1 (UVI Falcon) | 10.46 GB
Not 1, but 3 iconic synthesizer-samplers of the 80s plus massive lo-fi drum machine, original officially licensed sounds plus tons of new ones, all recorded on vintage equipment, available as single instruments or in multiple stacked sounds and inspiring 4 + 1 phrases, we are thrilled to present you with our most ambitious library: Emulation II +!
Explore the authentic sounds of the Emulator, Emulator II, and Emulator III equipment, then immerse yourself in Drumulation +, an old-school drum machine filled with thousands of drum samples from Drumulator, SP12 and EI, II and III, with a creative sequencer. , Drag and drop MIDI and more.
Whether you're a fan of 80s music or just love the lo-fi flavor of vintage samplers, Emulation II + is a powerful, dynamic and widely played instrument that inspires musicians, composers, producers and sound engineers of all skill levels.
Used in countless 80s hits and movies, the Emulation II sounds are rich and spontaneous. With over 300 layers recorded directly from a fully rebuilt Emulator II, and again on the rare Oberheim DPX-1 (switch cars by pressing the DPX switch in the user interface), you will receive a comprehensive collection of officially licensed presets from OMI's exclusive "Universe of Sounds, Vol. 1 and 2. Emulation II gives you unprecedented access to the authentic lo-fi sounds of this iconic hit maker.
Emulator was the first "affordable" 8-bit sampler, released in 1981. Emulation I is a modern, creative exploration of this vintage classic, delivering both old and brand new sounds. With a warm collection of samples loaded onto diskette and recorded from hardware, you get hundreds of lo-fi sounds, from orchestral to electronic, classical to modern. Emulation I is a versatile tool with a lot of features and surprises.
Emulator III has a more reliable system with a more accurate engine and has a classic vintage sound with a twist. Thanks to the original licensed sounds from OMI, you get over 240 layers recorded directly from the equipment. Emulation III complements the acclaimed trinity of '80s sample synths with a unique and complementary sound library, including a variety of bass, solos, bells, pads, orchestral music and more.
Publisher : UVI
Website : www.uvi.net/en/vintage-synth/emulation-ii-plus.html
Format : SOUNDBANK
Quality : 24 bit 48 kHz stereo